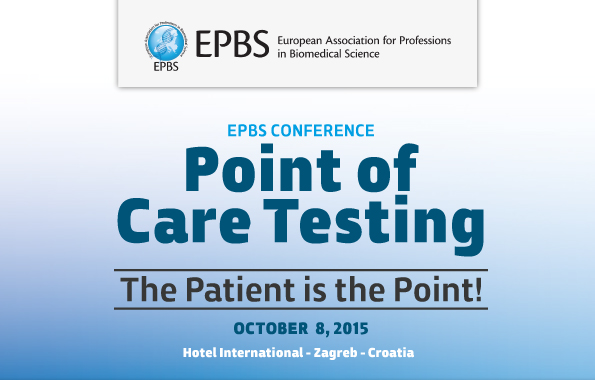 Dear Biomedical Laboratory Scientists
This year's EPBS conference topic is Point of Care Testing: the Patient is the Point, a joint organization with the Croatian Chamber of Health Professionals Professional Department for Medical Laboratory Activities.
The conference will be held on 8th of October at Hotel International, Zagreb, Croatia. More information can be found on the trifold attached.
We would like to have your participation and support in bringing as many European colleagues as possible. We have prepared the following promotional documents that can be used to advertise the event among your members :
a poster and a trifold in two different versions, one for digital use only and the other for printing.
- Digital version: POCT-FINAL-WEBVERSION.PNG and POCT—trifold-FV.PDF (use on National members webpage, Facebook, Instagram, send by mail list distribution)
- Printing Version: POCT-FINAL-PRINTVERSION.PDF and POCT—trifold-PRINT-FV.PDF (print and distribute in Hospitals, Health Care Centres, send by regular mail to the members)
Registration fee is 50 euro. Please note that Students attending the Student Forum (selected by their National Association) can attempt the conference day for free. For all other students: the registration fee is 20 euro.
Registration should be done online through the following web link http://contres.hr/category/projekti/poct/
To place a reservation for a hotel room please use the online system available at http://www.contres.hr/en/projects/ggb/general-governing-body-meeting-and-student-forum/
More information available on the Trifold, on EPBS website : www.epbs.net and on Croatian Chamber of Health Professionals Professional Department for Medical laboratory Activities website: http://mld.hkzr.hr/
We kindly ask you to promote the event throughout your networks and webpages, thank you so much,
We are looking forward to meeting you all there to make this event as memorable and profitable as possible!
All the best
Fernando Mendes